Breeding site

"del giardino Degrassi"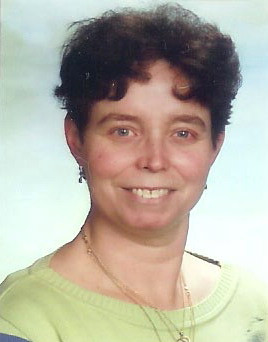 How I came to the dogs...
When I was a little bit more than two years old, my father died and my mother moved back with my brother and me from Grado, Italy, again to Austria.Here we lived up to my start of school with my uncle who breeded hunting dogs (German Short-haired Pointing Dog, German Wire haired Pointing Dog and Weimaraner) and went also hunting with them. With these dogs and puppies I spent my first miraculous years.
Then we moved into a flat and every day I went for a walk with neighbouring dogs.From one of my first salaries I bought my first own dog from the animal home. It was a black Miniature Schnauzer bitch called "Polly" who made me realize that I do not want a life without dogs.After I had Polly put to sleep at the age of twelve years, my first race dog - a dark sable Collie Rough bitch - "Zoe-Gold of Irish Home" came to the house in October, 1989. Then my breeding "del giardino Degrassi" began with her in 1992. She brought me two litters (1992: 7 puppies, 1995: 9 puppies = A- and C-litter).

In July, 1991 the first Leonberger bitch called "Blanca-Mundi vom Zeilachlehen" arrived. With her I had two litters (1994: 1 puppy, 1996: 2 puppies = B- and D-litter). Then there was still "Leo-Limbo zum Silberlöwen" - a Leonberger dog in spring, 1995, a Leonberger bitch "Neva-Princesse zum Silberlöwen" in winter, 1997 and a Leonberger dog "Gep's Big Bears del giardino Degrassi" (called "Bärli") in spring, 2002. I could not use the last three mentioned Leonbergers in the breeding. My last Leonberger bitch "Eris of the Welland" came in December, 2003 to me. Unfortunately she was also not suitable for breeding, so I searched for her - as already for "Princesse" and "Bärli" before - a new good place.
For my Austrian pinscher's bitch "Bimba" (she is a registered land pinscher bitch), indeed, I had to wait very long, but it has been worthwhile in all interests. The white Miniature Schnauzer bitch "Heldin-Gilda Trigenimus" came to the house in June, 2004 as desired by the children. Since August 13th, 2007 "Maia Vita von Amber" - the Giant Schnauzer bitch pepper-salt - is with me."Sandcastle's Ticklish Finja" - a gold sable Collie Smooth bitch - lives since 6th December, 2009 with us. On January 21st, 2015 "Gilda" died of a temporomandibular joint tumor. Since May 1st, 2015, lives "Una-Bambi von der Birkenheide" - an Austrian Pinscher bitch and great-granddaughter of Bimba - with us. On September 28th, 2016 "Maia" died of lymphoma cancer. "Jira" - daughter of "Una's" first litter - is allowed to live with us. It was very difficult for us to say goodbye to "Bimba" on July 17th, 2017 (she was almost 14 years old). "Finja" died on March 29th, 2023 at the age of 13 1/2 years.
On October 3rd, 1987 I married my husband - Franz Sachslehner. Our children - Clara (1989), Attila (1992), Rudolf (1993), Benjamin (1995) and Jakob (1999) grew up quite naturally with the dogs.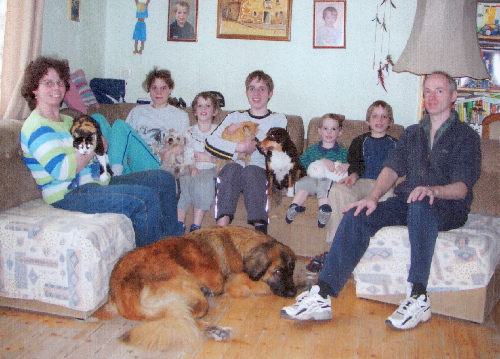 my family - April, 2006
On November 18th, 1998 I passed my form value judge check FCI, after the Leonberger club had "suggested" me. Meanwhile I can judge 29 races and it makes a lot of fun.
On December 31st, 2021 I ended my judge's work for health reasons.
FCI-Group

Standard-Number

Race

1

1

1

1

1

1

1

1

1

1

1

1

1

2

2

2

2

2

2

2

2

2

2

2

2

2

2

6

9

271

297

191

349

296

156

16

251

252

88

142

38

39

186

328

184

137

41

185

181

182

183

226

50

145

64

335

146

140

Bearded Collie

Border Collie

Bouvier des Flandres

Ciobanesc Romanesc Mioritic

Collie Smooth

Collie Rough

Old English Sheepdog (Bobtail)

Polski Owczarek Nizinny

Polski Owczarek Podhalansky

Shetland Sheepdog (Sheltie)

Slovensky Cuvac

Welsh Corgi Cardigan

Welsh Corgi Pembroke

Affenpinscher

Kaukasischer Ovtcharka

German Pinscher

Pyrenäen Berghund

Sarplaninac

Miniature Pinscher

Giant Schnauzer

Schnauzer

Miniature Schnauzer

Landseer

Newfoundlander

Leonberger

Austrian Pinscher

Zentralasiatischer Ovtcharka

Rhodesian Ridgeback

Boston Terrier